"The Ghost in the Renovation" by Jennifer Egan is on ThisOldHouse.com
-----------------------------------------------------------
We're thrilled to announce that The Keep is featured in a new novel by Jennifer Egan, the author of LOOK AT ME which was a 2001 National Book Award finalist. Her eponymous novel, THE KEEP, will be in stores on August 1st, and we hear from reliable sources that it will be featured in the New York Times Book Review on August 30th.
-----------------------------------------------------------
Welcome news, our pool renovation is complete. Photos will soon be available.
-----------------------------------------------------------
We're now accepting applications for summer internships at The Keep. Please "Work at the Keep" on this website to learn more about who we're looking for and what you can expect from employment here.
-----------------------------------------------------------
The Keep has been nominated by the International Tourism Board for a Gold Key award in the category of Most Unique Travel Experience. Winners will be announced on August 15, 2006. Our thanks to those guests who spoke up about the discoveries and epiphanies they experienced on our premises.
-----------------------------------------------------------
Please note: The Imagination Pool will be closed from March 2006 through June 2006 for renovation. We're vividly aware that this pool is a treasured space in our hotel, and have compressed this necessary work into the shortest possible timeframe.
-----------------------------------------------------------
A profile of the Von Ausblinkers has been published in this month's issue of Notables Magazine, detailing a feud between the three American children of the late Baroness Liesl von Ausblinker and the two Canadian daughters of Princess Annaka Sternshowa over rights to a small island where their families used to vacation together in the early 20th Century. The Keep's creater, Howard King, is quoted.
The Keep is unique among European castles for having been owned by a single family, the Von Ausblinkers, for most of its 900-year history. Originally constructed in 1120, it consisted of the keep, or tower, an exterior wall, and a moat. Later it was expanded and modified as new castle technologies became widespread, though its basic architectural plan conforms to the concentric wall model popular in the early 14th Century.
The castle withstood many sieges, particularly in the 13th and 14th Centuries. It has never been captured, in part because its elaborate system of underground tunnels kept those inside the keep well stocked with provisions. In the 17th Century, when castle warfare had waned (a process that began with introduction of gunpowder in the 15th Century), the castle was converted into a pleasure palace for the Baron von Ausblinker and his wife, Liesl, who removed a tower to create the vast circular pool that today is the castle's hallmark. Several etchings by Bartolome Murillo of swans afloat on the Von Ausblinker pool still hang in the Prado Museum in Madrid. Rembrandt is also said to have sketched here.
In the 19th Century, sections of the castle were closed down by the dwindling Von Ausblinker family, who finally abandoned the property in the early 20th Century. The castle lay uninhabited for several decades before a German hotel speculator recognized its potential. Eventually the property was acquired by Howard King, creator of The Keep, who renovated the property and sold it to JourneyVisionTM Creative Hotels.
Until recently, the last European descendent of the Von Ausblinker family, Baroness Liesl von Ausblinker, was still in residence on the premises. She passed away peacefully three years ago, in a nursing home, at age 108.
Anticipation: You are almost here. Which means you're on the verge of an experience that will send you home a slightly different person than the one you are right now. The Keep is an electronics and telecommunications free environment. Close your eyes, breathe deeply: you can do it. We have a secure vault, where all your gadgetry may be stored when you arrive. This ritual of renunciation is important. If you feel the urge to thwart it, pay attention. You may not be ready.
We provide loose, comfortable clothing that looks the same rain or shine, day or night, no matter who wears it, so you can look at other things.
Our premises are absolutely secure. You may go wherever you wish, day or night. If you need light (especially important in the tunnels) just ask. Our staff is plentiful and, we hope, unobtrusive. Be mindful of the fact that other guests may be using a space at the same time you are. Remember—you're here to talk to yourself, not each other. There is no need for greetings or even eye contact. You have the rest of your life for that.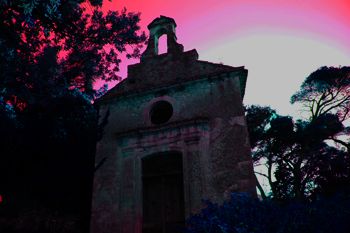 The Carriage House:  a stone refuge that offers a glimpse of 17th Century castle life.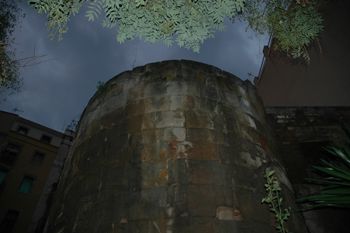 The Armory:  A fortress within our fortress where weaponry has given way to contemplation.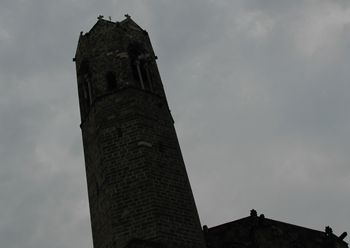 The Tower:  The Keep was once the castle's heart, or inner stronghold.  We think of it now as an antenna linking us to a millennium of history.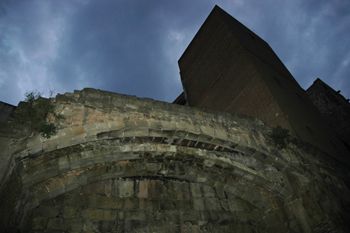 The Eastern Wall:  The formidable construction of the castle walls is still psychologically sound.  You will be safe here.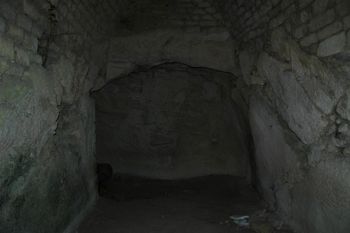 The Tunnels:  This unknowable tangle of supply tunnels was built over the course of many centuries.  If the keep was the castle's heart, these tunnels were its guts.  Now equipped with call boxes every thirty feet for those who have lost their way.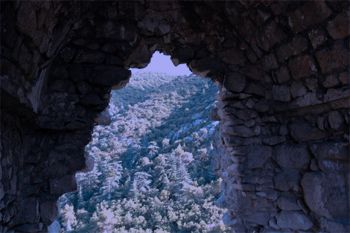 The Western Exit:  A hole left from the castle's last siege in the late 16th Century, gives way to the lush valley below.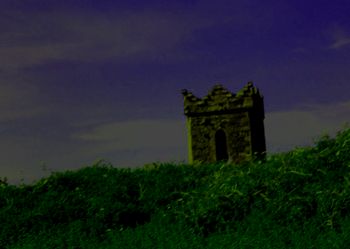 The Laundry:  Visit the site of the castle laundry from 1698-1782.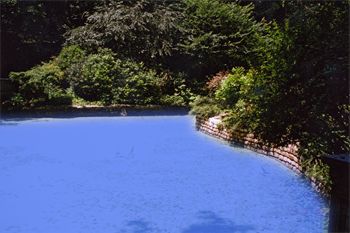 The Imagination Pool:  Spring-fed and kept at a comfortable 85 degrees Farenheit, the pool forms the core of our vision at The Keep.  Many have found it transformative.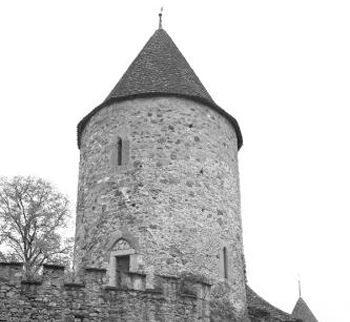 The Keep: as seen in a 1940 photograph.
"I checked into The Keep anticipating a brief visit, but it was a full three years before I was able to check out again. It's fair to say that my creative powers were stimulated and challenged on a daily basis during that period. I'll remember The Keep fondly, though I sincerely doubt I'll be back."-Jennifer Egan
Our Staff Development program welcomes applicants year-round. We have an ongoing relationship with several hotel schools, providing post Graduate Residencies and Summer Project Assistance to qualified students. We also offer unpaid internships to newcomers without experience, providing room and board during their stay. Every staff member, paid or unpaid, must complete our intensive 6-week training. Please note that we graduate only approximately 1 in 3 trainees. What we value most at The Keep is an open turn of mind and a high degree of sensitivity to the unspoken needs of our guests. These qualities are independent of education and background. They can't be learned, but they can be developed. Our goal is to help each and every one of our employees achieve his or her maximum potential, no matter how brief their commitment to our project.
If you're interested, please download and complete our application.
We encourage unstructured time at The Keep, and find that most of our guests feel a dwindling need for organized stimulation as they extend their stays. For those who find that a structured activity or two can provide shape to their day and enhance their sense of freedom the rest of the time, we do offer the following programs:
Tunnelwalking
Swim Yoga
Wall Climbing
Bird Identification
Trips to nearby scenic towns
Nondenominational Chapel
Nightly Medieval Music
Tapestry Weaving
Swim Yoga: Miriam, our yoga instructor, teaches a daily yoga class in the Imagination Pool. Swim yoga combines tradtional yoga breathing with basic swimming skills to create an exercise that invigorates the spirit along with the body. All levels of experience are welcome, bathing attire optional.
Wall Climbing: Taught by lifelong rockclimber George, this class combines strenuous physical exertion with castle exploration and history. Participants scale the outer walls of The Keep using an array of traditional rock climbing equipment. In doing so, they achieve a unique intimacy with our castle structure and surrounding grounds. Limited to those in good physical condition, athletic shoes recommended.
Bird Identification: Ariel, our experienced birdwatcher, will lead you on a walk around the grounds and help you spot and identify local birds, including 48 varieties unique to this mountain range. All are welcome. Binoculars will be provided.
Trips: Resident Karolinka leads day trips to the nearby towns of Drobnoviz, Szez, Krinkva, Skreczohum. Participants will travel by gondola, train, bus and foot. Karolinka can guide you to the famous weather vanes still manufactured in Szez and direct you to the best povza cake in Krinkva. Visits to the clock shop in Skreczohum are available by appointment. Anyone is welcome, comfortable walking shoes and an umbrella are recommended.
Tapestry Weaving: Experience the loss of individualism that comes of contributing anonymously to a tapestry that will take years to complete. Guests may weave for as long as they like, whenever they like. Rest assured that your contribution will go unacknowledged, thus giving you insight into the mindset of unsung craftspeople and cathedral builders throughout history.
Tunnelwalking: For those hesitant to descend alone into the web of tunnels that lead from our keep into the surrounding hills, Stephanie leads a daily group into varying sections of the maze. Discover enclaves from an array of centuries, including a wine cellar, a torture room and a prison. Claustrophobics strongly discouraged. Flashlight required, backup batteries recommended.
Entertainment: Apart from the live medieval music at dinnertime in the Great Hall, we provide no formal entertainment at the Keep. That's your job. We trust you. Now trust yourself.
We allow reservations one year in advance of arrival, and guests are encouraged to contact us as early as possible.